IT Project Management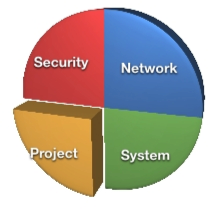 The ISO standard 10006 provides a foundation for quality management within projects and is in particular useful for IT projects
Together with the project management frameworks PMI/PMBoK and PRINCE2, ISO 10006 can be regarded as cornerstone for a systematic approach to IT project management, which is considered as technology risk (external) and (internal) quality driven.
Today, none of the current projects can be realized in 'empty space', rather they depend on external factors. While within IT projects the quality management can be substantially supported by IT, the main task of Project Management (PM) is shifted to control and reduce the external impacts of the projects ("Dios me proteja de mis amigos, que de mis enemigos me protegeré yo." - Antigonus de Makedonia, 240 BC)
Unfortunately, neither PMI nor PRINCE2 teach those lessons. They rather focus on the project internals, as in particular known as Work Breakdown Structure WBS.